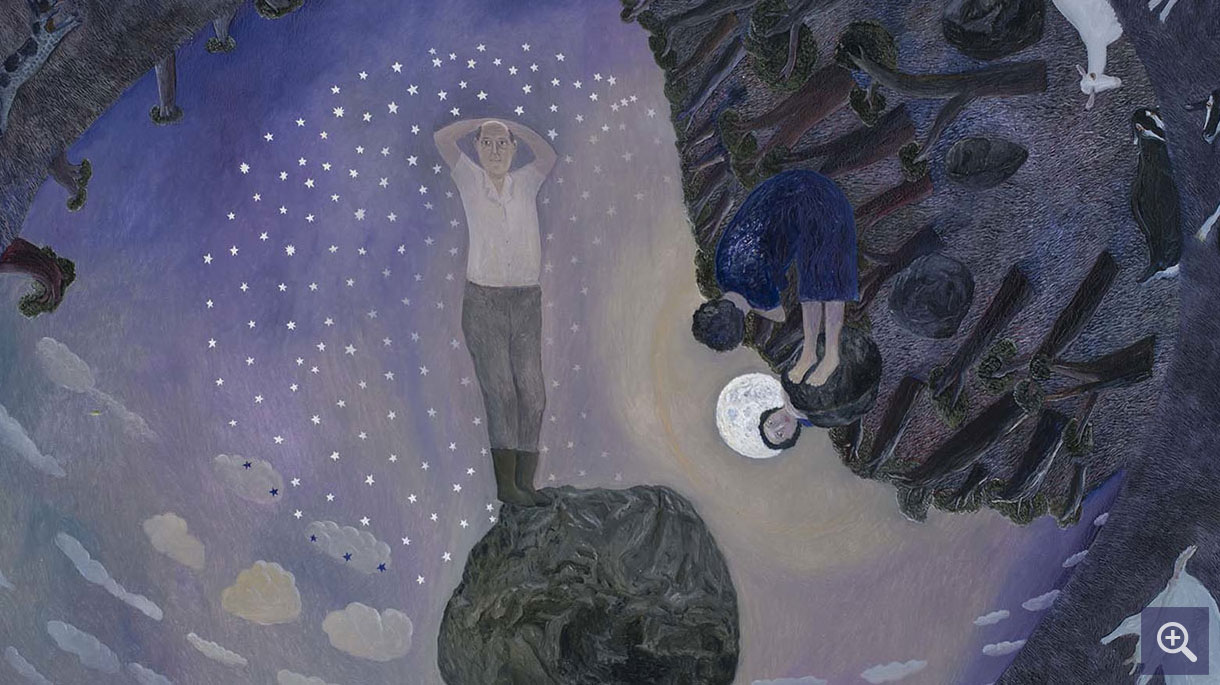 William Robinson: Infinite sphere
Past exhibition
We shall not cease from exploration, and the end of all our exploring will be to arrive where we started and know the place for the first time. – T. S. Eliot
William Robinson: Infinite sphere surveys work from the artist's early career until now. It explores the literal and metaphorical concerns that underpin Robinson's art, and demonstrates the full circle of his practice. The exhibition shows how his work has no beginning or end, and how this is articulated through his ongoing use of multipoint perspective and, more recently, in his single works that blend landscape, interior and autobiography. This exhibition ranges from rarely seen works from the 1970s, dramatic landscapes from the late 1990s and early 2000s, through to his return in recent years to still life and domestic interiors.
The same complexity exists in small works such as Verandah 1976 and Interior with black dog 1970 as in the large-scale landscape paintings Robinson is so renowned for, as he skillfully deconstructs ideas of a single focal point or lineal perspective in both. Further, the recent work Self portrait with salmon heads 2014 blurs the genres of still life and self portraiture. It portrays the artist painting, brush in hand, intently gazing at the viewer. This position sets up a clever pictorial interplay; viewers are unsure whether Robinson is looking at them or the subject of his painting: the vanitas-inspired fish heads. This sense of circularity can also be felt in other works where multiple views may be offered through reflections in mirrors, pools of water, doorways, mountain peaks and valleys. With no definitive focal point, and given that one view leads to another, it seems possibilities are endless.
Nowhere are these ideas more obvious than in Robinson's most ambitious series of paintings created over a 10-year period and known as the Creation landscapes. Infinite sphere includes the seventh and last work of this series, Creation landscape: the dome of space and time 2003-04. It sits alongside the first multi-panel artwork the artist has completed in over a decade, The garden 2013-14, a painting of extraordinary scale and vision that depicts the artist's private garden in bloom over the four seasons. As one's eye navigates the painting, the seasons are traversed. From left to right, and from the northern to the southern sphere, one sees the flowering sub-tropical plants of late summer through to winter. By following a linear process of painting, Robinson is able to work to, and capture, the cyclical elements of a year. In this respect, he represents the intricate details of the cycle of life as it plays out in nature, and as the earth's orbit circles the sun.
Never ordinary or overt, Robinson's artworks are multi-layered objects, full of the sort of complexities that reveal themselves through time and deep contemplation. To discover their truth, the viewer simply has to commit and surrender to the pictorial puzzle in front of them. Infinite sphere confirms Robinson as one of Australia's greatest living artists: an accomplished painter, draftsman, colourist and printmaker. Above all, he is a person of extraordinary vision, who constantly observes and questions the world around him.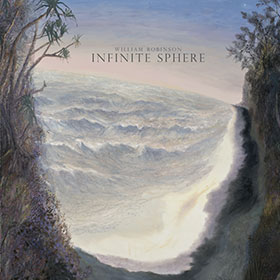 William Robinson: Infinite sphere
Contributions by Professor Susan Street AO and Vanessa Van Ooyen
54 pages
$15
Available at Old Government House
or by phone order 07 3138 8005
Dates
20 July 2014 - 19 July 2015