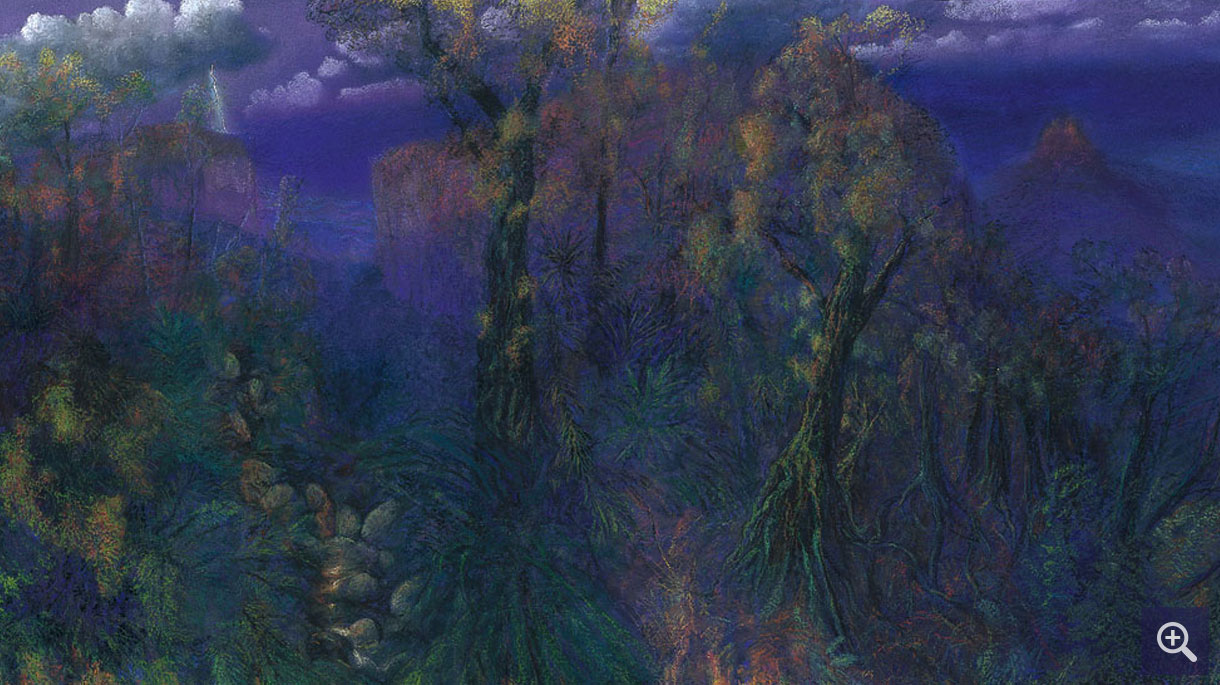 Realms of vision: The art of William Robinson
Past exhibition
Realms of vision: The art of William Robinson presents an overview of this Brisbane-born artist's work through the genres that have dominated his mature output: the interior, farmyard, landscape, seascape and self-portraiture. Comprising 41 works, the exhibition includes paintings, sculpture, drawings, prints and ceramics as well as various sketchbooks and photographs. A highlight is the artist's palette used to create paintings from 2001 to 2008 and gifted by the artist to the William Robinson Gallery in 2008.
The exhibition begins with a series of vibrant pastel drawings of the 1970s depicting Robinson's garden and the interior of his house at Birkdale on Brisbane's eastern outskirts. This three-hectare property contained a menagerie of chooks, goats and cows and these form the subject matter of the ensuing group of works portraying farmyard life.
In 1984 Robinson moved with his family to a large rainforest property at Beechmont in Queensland's Gold Coast hinterland. The move marked a critical turning point in his artistic development. What followed was a remarkable body of work that encompasses a range of subject matter based on the verdant rainforest, its wildlife and flora. Robinson's impressions of his new surrounds are brilliantly depicted in the exhibition through works that he produced from the mid 1980s onwards. There is a focus on incorporating movement and multiple viewpoints as primary constituents of the composition in response to the enveloping mountainous terrain that inspired his imagination.
Robinson is critically acclaimed for the series of rainforest paintings of the late 1980s, 1990s and 2000s. Momentous compositions like Tallanbanna with cloud front 1998, The blue pools, Springbrook to Beechmont 2000 and Tone poem: morning 2008 vividly express his wonder at creation and the universe, and the mystery of life within the vast cosmos of nature.
Twice winner of the Archibald Prize, Robinson is also an outstanding portrait painter. His two winning entries Equestrian self portrait 1987 and Self portrait with stunned mullet 1994, which won the Prize in 1995, are featured in the Gallery's atrium.
An illustrated catalogue accompanies the exhibition.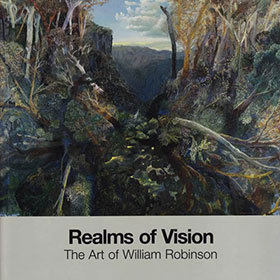 Realms of Vision: The Art of William Robinson
Contributions by Stephen Rainbird
72 pages, illustrated
$25
Available at Old Government House
or by phone order 07 3138 8005
Dates
27 August 2009 - 22 August 2010